I've been busy...super busy. 40th birthday sorta surprise celebration for a friend tonight kind of busy... Ray has a board meeting at camp on Sat. means I'm busy with my girls.... I have to find a way to get Shelby back to her home which happens to be 6 hours from mine... That means no less than 6 hours and no more than 12 hours of busy-ness in a car in one fail swoop at some point this weekend. I'm teaching our Children's Worship this month preparing, trying not to make a fool of myself and keep their attention kind of busy... It's the end of school that means last minute field trips and end of the year parties like a chicken with my head cut off kind of busy... It also means Indian Pride ceremonies that are a good proud of my kids kind of busy...I also have a part time job and a baby to take care of super busy.... I'm helping (not much but still) get ready for VBS in 2 weeks and in two weeks I'll be crazy busy... I getting ready to teach the Bible Class at camp for our week in July busy preparing and scared of how busy I'll be that week... I'm writing 2 or 3 script skits for camp in the fun kind of busy category... I'm getting trophies, t-shirts, prizes etc, for camp in the holy crap how and I'm going to get all this done when all I want to do is nap and blog kind of busy...
I'm a busy girl right now. I'm reading far too many blogs to creat my own blog. I really need to blog about the great necklaces my friend Shanan sent the girls. They won't take them off. They're great birthday presents. Just go to Simply Shanan and check it out. I don't know if I will get to that post before August.
I've also been reading a book called Crazy Love. It's very good and I recommend reading the book as you watch the online video. It's a good story. I ordered a book to help me prepare camp lessons. It was a waste of money. It really didn't help but this book was also in the package. I didn't order it. The other person's receipt was in the package so I called the company. Apparently the cost of shipping back and forth didn't justify things so the company said keep the book as a gift. Isn't it funny how God works in mysterious ways. This book is something I really needed to read right now. I'm almost finished. I would love to discuss it with someone... Bring it on...maybe I'll start a blogging book club. Wait, I'm too busy, just let me know if you read it.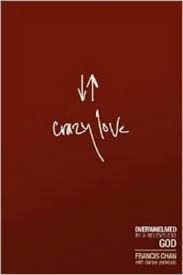 I've also been wondering if I'm blogging addicted. I've been reading blogs from the laptop while Ray watches the news or Deadliest Catch. I think it might be taking too much of my time during the day. While I don't plan to stop reading blogs, I may not be posting as much this summer. How do you find your balance? Enquiring minds would like to know.
I'm fairly certain that after 1:30 this afternoon I won't know which end is up. Maybe I'll catch you on Monday. Have a great week.